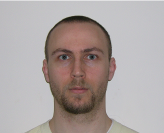 Jason Sharp
Owner/Technician
PC-Troubles was originally founded by a group of friends while attending the DeVry Institute of Technology located in North York, Ontario back in early 1996. We started offering services specializing in the installation and maintenance of Windows 95. After graduation, the group responsible for PC-Troubles went their separate paths and the services offered by PC-Troubles faded.

In the fall of 2007, Mr. Sharp, one of the original founders, started to revive the PC-Troubles name and finally, in late 2008, PC-Troubles was re-launched. Focusing on remote assistance and on-site services ranging from computer repairs to networking to virus removal, we continue to offer high quality services related to the maintaining of computer systems.

In 2018, we started to take in and process electronic waste. We accept a wide range of items from Computers and accessories to Stoves and Laundry equipment.
In 2020, we added Broadcast Engineering services to our repertoire. We are currently providing services to McMaster University's CFMU (93.3) and Mohawk College's CIOI (101.5) in Hamilton. We have also provided services to Woodstock Ontario's CIHR (104.7), Niagara Falls Ontario's CJED (105.1) and Fort Erie Ontario's CFLZ (101.1).